[mp_row]
[mp_span col="12″]
[mp_code]
Virtual event platform raises the bar for online conference series.
The Connect via Hootsuite Lobby"
PLEASANTON, CA (PRWEB) APRIL 26, 2017
6Connex, the trusted choice for enterprise organizations seeking to create engaging digital experiences through virtual events and environments, today announces that Hootsuite, the most widely used platform for managing social media, will be hosting the largest free online social media conference of its kind, Connect via Hootsuite, on the 6Connex platform. The global event will bring together social innovators, inspiring brands, and industry experts to show how companies can increase reach and grow revenue through social marketing and social selling.
The Connect via Hootsuite conference on May 3rd will run entirely on the 6Connex Virtual Destinations platform, known for being the most flexible, configurable and scalable virtual event software on the market. Fully HTML5, the platform will be accessible to thousands of marketers from any browser, on any device.
Hootsuite selected 6Connex to raise the bar for their online conference series. The front-end user experience was a top priority, as was a back-end toolset that included a robust integration with Marketo, and more options for staff and partners.
"Connect via Hootsuite will help attendees better develop strategies for leveraging social to grow their business," said Craig Ryomoto, VP Growth at Hootsuite. "We chose the 6Connex platform to give attendees an optimal user experience while connecting with peers and industry experts."
"With more than 15 million users worldwide, Hootsuite is a true pioneer in social media management," says Mike Nelson, CEO of 6Connex. "As an industry innovator, their trust in our platform speaks volumes. We look forward to making the May 3rd event their most successful online social media conference yet."
This year's Connect via Hootsuite conference, "From Reach to Revenue: Profiting From Social" offers exclusive content such as access to social media reports, guides and case studies, as well as expert training through live presentations and virtual booths hosted by top industry brands. In addition, attendees can connect with social media pros from around the world. The conference opens May 3rd at 5 a.m. PT and runs to 9:30 p.m. PT. To learn more or to register visit https://hootsuite.6connex.com/event/CVH/login.
To learn more about the 6Connex Virtual Destinations platform, please visit http://www.6connex.com/ or contact juergen.voelkel@voelkel-itk.de our partner at D-A-CH region
ABOUT 6CONNEX
6Connex powers virtual events and environments for career fairs, employee onboarding, user conferences, corporate universities and other applications. The 100-percent SaaS virtual destination platform is backed by a team of passionate virtual event experts, dedicated to both market innovation and customer success. More than 100 organizations rely on 6Connex, including Intuit, GE, Economist, Salesforce, Hootsuite, Ericsson, CDC, the American Association of Medical Schools, and the University of Alberta. 6Connex is based in Pleasanton, CA, with offices in London and Shanghai.
[/mp_code]
[/mp_span]
[/mp_row]
[mp_row]
[mp_span col="12″]
[mp_text]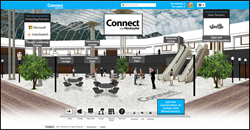 [/mp_text]
[/mp_span]
[/mp_row]